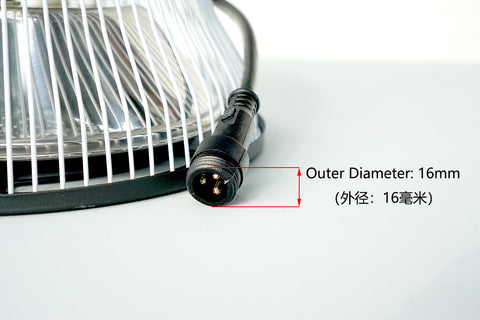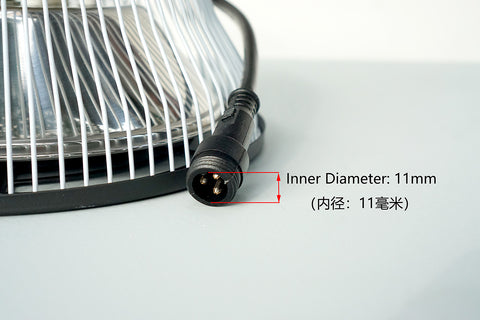 You have to confirm the size of plug(connector) before you order.
TDP Lamp Head, This Genuine TDP Lamp Replacement Head for Desktop, Includes a New Mineral Plate, Heater and Coil and is Already Assembled for Easy Installation No Tools
This lamp head is the original assembly part of the export-specific electromagnetic wave therapeutic device ("TDP" for short) produced by our company. It is the most important part of the therapeutic effect of TDP lamp. Each lamp head is manufactured in strict accordance with the safety standards required by the FDA of the United States.
Elemental plate is the core component of TDP lamp. It is a circular steel plate with a slightly concave thickness of 1mm. Its surface has been sintered at high temperature for more than 30 essential elements for human body. Its formula is special and confidential. When the element plate is heated to a certain temperature, the medium and far infrared light waves in the range of 2-25 micron spectrum and 25-35 mw/cm2 intensity will be excited. Chinese hospitals, clinics and beauty agencies use it to treat joint pain, eliminate inflammation, relieve muscle stiffness, promote local blood circulation, accelerate wound healing, and assist postpartum recovery. The product is simple to operate, effective and has no side effects on human body. It has been on the market for more than 30 years from clinical experiments to approval by China Food and Drug Administration (CFDA). It has been widely used in families all over the world and has become a real "magic lamp" in the eyes of ordinary people.
If you think sunbathing is good for you or you like sunbathing, you will love our product.
All in-stock orders will leave our warehouse within 24 - 48 hours of the order being placed.
Orders placed after 12 PM Pacific Time on Fridays, or anytime over the weekend, will ship the next business day.

FREE SHIPPING via UPS All orders to the United States, are shipped from our warehouse in the US.

Warehouse Address: 5650 Grace Pl Commerce CA US 90022
Estimated Delivery From Order Date United States : 3 - 5 business days